Are you a current, former or prospective professional dancer or cheerleader? Does your team need fresh choreography? Would you like to meet others in the industry or hear about audition opportunities?   Click here for more details!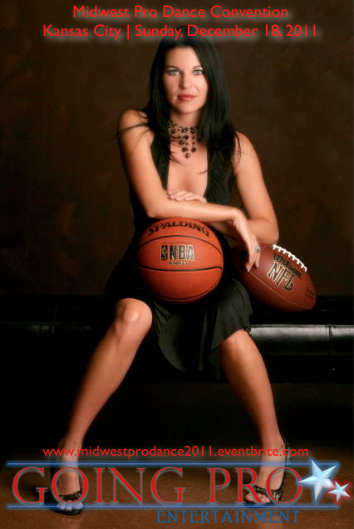 Then get ready for the Midwest Pro Dance Workshop in Kansas City, Missouri on Sunday, December 18, 2011! 
AGENDA 
** Learn choreography from elite alumni and directors 
** Representing the NFL, NBA, AFL, MLS, and MLB
** Get tips from the pros on fitness, nutrition, makeup, attire and more
** Network with other performers from the midwest (and beyond!)
** Receive giveaways from sponsors including attire and cosmetics

COSTS 
** Morning (9:00am-12:00pm): $45 Register Now at www.midwestprodance2011.eventbrite.com
** Afternoon (1:00pm-4:00pm): $45 Register Now! 
** Full day (9:00am-4:00pm): $79 Register Now!
** Discount: 15% off early bird registration before Dec. 8!
** Groups: Receive one free admission with the enrollment of two full day admissions 
** Refund Policy: In the event of cancellation, all fees will be refunded in full as well as discount to attend future Going Pro event. If attendee withdraws, 75% of registration fees may be refunded through 3 days prior to the event. Registrations are not refundable within 48 hours prior to the event start time.
LOCATION 
Stars Unlimited Dance Studio
6602 Royal, Suite D, Pleasant Valley, MO. 64068 - near Liberty, Missouri off of I-35
CHOREOGRAPHERS 
Our choreographers are top alumni and directors of dance and cheer teams in the NFL, NBA, AFL, MLB and other sports leagues. They will teach 6 sidelines and 2 routines in length of 45-60 seconds, representing all major sports leagues.
**Amber Taylor, Kansas City Royals Game Day Entertainment ChoreographerKansas City Comets Galaxy Girls Choreographer, Kansas City Wizards Girl MLSPerformer, Local studio owner.
**Ashley Worrell Mitchell, Author of "Half-time Highlights: A Guide toDancing in the NFL/NBA," Kansas City Chiefs Cheerleader, San Antonio Spurs Silver Dancer, Dallas Mavericks Dancer, Kansas City AFL BrigadeGirl, Current director of the Missouri Western State University Dance Team,Former local studio owner .
**Jenni Hansen of JK Choreography, Lead Choreographer of the Kansas City AFL Brigade Girls, Choreographer for Pitt State, Central Missouri State, Johnson County Community College, and creator of the local hip hop phenomenon Nu Swagger.
**Laura Eilers, Director of the arena football Richmond Raiders "Lady Raiders" Dance Team and American Basketball Association Portsmouth Cavaliers Dance Team, NFL Cheerleader for Kansas City and St. Louis, Ms. United States 2011.  
  
PRESENTERS
Featuring experts in the area of fitness, hair, makeup, and interview skills.
**Michele Gregor, Kansas City Chiefs Cheerleader- 3 years.  Staff member for Chiefs Cheerleading squad- focus wason fitness and nutrition, Dancer for the Comets (indoor soccer team), Certified personal trainer, Group Fitness Instructor (for over 10 years); Spin Instructor, Youth Cheer Coach, Top 5 National Level Bikini competitor-NPC, Arnold Amateur-  3rd Place, Jr. Nationals- 4th Place.  Michele currently trains other fitness competitors and works full-time as an Occupational Therapist
**Loree Gentry has been involved in dancing and cheerleading for over 30 years.  She began her gymnastics and dance career at the age of 4 and continued her dancing and cheerleading experience through college. Loree was a part of the Northwest Missouri State University's Collegiate Dance team which placed in the top 10 at the National Competition in Dallas, Texas. She has coached various high school cheerleading and dance squads, and has also directed several muscial theater productions. Most recently, Loree was a member of the 2004 and 2005 Kansas City Chiefs Cheerleaders. She was also on the KC Chiefs Cheerleading staff in 2006 and 2007. Her expertise is now in athletic conditioning and public speaking. Loree is currently a high school English teacher and a fitness instructor at 24 Hour Fitness.
**Jami Roth, is a freelance makeup artist who currently freelances for Chanel Cosmetics & Fragrances and Armani this year.  Jami began her career with Chanel when she was 19 years old working at Dillard's behind the counter and have been with Chanel now for the past eight years.  When she is not freelancing she enjoys doing makeup for weddings, fashion shows, photos shoots, events, dances and so forth.  Jami is excited to help you get audition ready!
**Bobby Erickson from "We Cover Cheer" will be covering our event.
EMAIL QUESTIONS to:  ashley@goingproentertainment.com